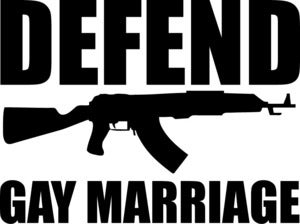 $

15.00
How about a spiffy new item to show the world you love tshirts and equal rights for everyone?
Available in Black w/ white lettering, and Red w/ white lettering on Hanes comfort tagless shirts.
All profits from the sale of this item will be donated to the Human Rights Campaign (www.hrc.org) to help aid their fight for equal rights for everybody!
Availability
Black YL - 60% in stock

Black SM - 92% in stock

Black Med - 73% in stock

Black Large - 85% in stock

Red YL - 100% in stock

Red SM - 92% in stock

Red Med - 87% in stock

Red Large - 83% in stock